Our Brands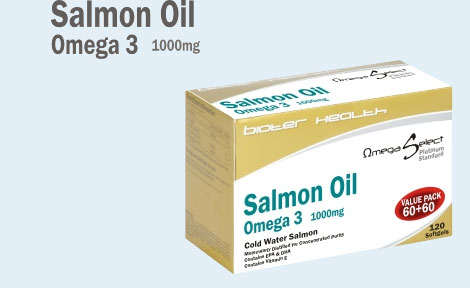 Bioter Health OmegaSelect Salmon Oil 1000mg:
The health benefits of Salmon Oil were first noted in Greenland where there was a very low occurrence of heart disease. This was attributed to their diets which were rich in fish such as Salmon which contained a high concentration of Omega 3.
What is Salmon Oil?
The fats in fish, and in particular Salmon contain a class of polyunsaturated fatty acids called Omega 3's. These are vastly different from the polyunsaturated fatty acids found in vegetable oils and have profoundly different benefits to the human body. Fish do not manufacture these fats but obtain them from their plankton rich diet. Studies indicate that the concentration of Omega 3 is highest in fish found in cooler waters such as Scandinavia and Canada.
The two most important forms of Omega 3 are eicosapentaenoic acid (EPA) and docosahexaenoic acid (DHA). EPA and DHA are found in abundance in cold water salmon.
Known Benefits:
Protects the Heart

Reduces Cholesterol
Reduces Blood Clotting
Decreases Blood Pressure

Reduces Inflammation

Reduces Pain associated with Joint Disease
Support for Inflammatory Conditions such as Multiple Sclerosis, Eczema and Psoriasis

Other Benefits

Gastro-intestinal - Irritable Bowel Syndrome and Constipation
Relieves symptoms of Menopause eg: hot flushes