Our Brands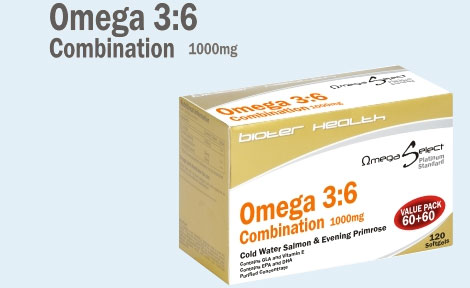 Bioter Health OmegaSelect Salmon Oil 1000mg:
The combination of Salmon Oil and Evening Primrose Oil is designed to provide the benefits of Omega 3 found in cold water Salmon and Omega 6 found in Evening Primrose Oil, contained in a single softgel capsule. The combination is especially suitable for general well being.
What is Omega 3:6
Salmon oil is a rich source of Omega 3 essential fatty acids in the form of EPA (Eicosopentaenoic Acid) and DHA (Docosahexaenoic Acids). EPA and DHA are known to maintain healthy brain, eye and nervous system function. These forms of EFA's also play an important role in promoting cardiac health .
Evening Primrose Oil (EPO) is also known to relieve the symptoms of pre-menstrual tension and menopause. Evening Primrose Oil has powerful antioxidant properties and has been used with success in treating dry flaky skin.
Known Benefits:
Protects the Heart

Regulates Blood Pressure
Reduces Blood Clotting
Reduces Cholesterol Levels

Reduces Inflammation

Reduces Pain associated with Joint Disease

Protects Immune System

Maintains Healthy Brain and Eye Function
Beneficial in Attention Deficit Hyperactivity Disorder (ADHD) and ADD
Maintains Healthy Cell Function
Reduces Symptoms of PMS