Our Brands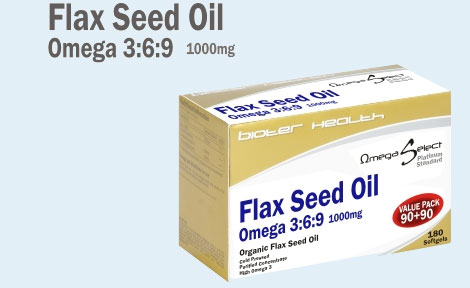 BIOTER HEALTH FLAX SEED OIL 1000mg:
Flax seed oil is a rich source of healing oil derived from the linseed of the Flax plant and has been cultivated for more than 700 years. The oil was mainly used in the prevention and treatment of heart disease and to relieve a variety of inflammatory disorders and hormone related conditions.
What is Flax Seed Oil?
Flax Seeds are a source of essential fatty acids (EFAs) - fats and oils which the body cannot produce naturally. Flax Seed contains the highest amount of alpha-linoleic acid also known as an omega 3 fatty acid.
Flax Seed also contains Omega 6 fatty acid (linoleic acid) present in most vegetable oils. In addition, Flax Seed provides lignans, a substance that appear to be beneficial in the prevention of various hormone related diseases. Lignans are known to have antioxidant properties. Flax Seed contains approximately 800 times the lignans found in other food sources.
Known Benefits:
Protects the Heart

Reduces Cholesterol
Reduces Blood Clotting
Decreases Blood Pressure

Reduces Inflammation

Reduces Pain associated with Joint Disease
Support for Inflammatory Conditions such as Multiple Sclerosis, Eczema and Psoriasis

Other Benefits

Gastro-intestinal - Irritable Bowel Syndrome and Constipation
Relieves symptoms of Menopause eg: hot flushes